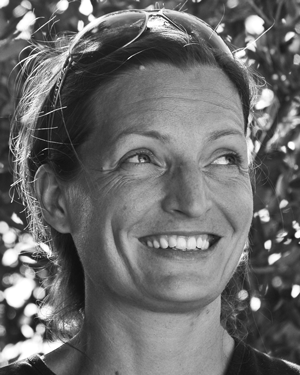 Jennifer Schaub
Jennifer Schaub (nata nel 1974 nel Saarland in Germania), si è laureata in architettura sia in Germania (1999) che in Italia (2006). Vive e lavora in Toscana dal 2000.
Dal 2006 collabora con Klaus Dieter Köehler (htw saar, Saarbrücken) e gli altri partner di Re-FACT organizzando, coordinando e insegnando nei workshop internazionali sulla riconversione dell'archeologia industriale nel contesto della rigenerazione urbana.
Inoltre ha insegnato come assistente e cultore della materia, facendo anche da correlatrice a tesi di laurea, all'Università degli Studi di Firenze collaborando con Flaviano Maria Lorusso sul tema dell'architettura specialistica, in particolare musei, e della rigenerazione urbana all'interno del corso di laurea specialistica di progettazione dell'architettura.
Ha tenuto anche varie lezioni sull'architettura contemporanea in legno all'interno di corsi di formazione professionale per architetti sul tema delle costruzioni in legno.
Il suo lavoro professionale si sta concentrando sulla progettazione esecutiva e costruttiva di edifici scolastici con un approccio verso la sostenibilità, prediligendo strutture in legno per la nuova costruzione e impiegando comunque materiali naturali per garantire migliore comfort indoor agli utenti finali.
Al di là di questo, è attualmente la coordinatrice di un associazione senza fini di lucro, la quale, supportata da un partenariato internazionale, si impegna nella conservazione del paesaggio e nella promozione di uno sviluppo sostenibile locale.
Gli aspetti sociali e culturali dell'architettura sono importanti quanto la ricerca applicata. Per questo si impegna nella sensibilizzazione della comunità e nella formazione. L'obiettivo è quello di impartire la passione per l'architettura come potente strumento non solo per testimoniare Zeitgeist, ma anche per indurre il cambiamento.
Jennifer Schaub (b.1974 Saarland, Germany) graduated in architecture, both in Germany (1999) and in Italy (2006). She has been living and working in Tuscany since 2000.
Since 2006 she has been collaborating with Klaus Dieter Köehler (HTW Saar, Saarbrücken) and with the other partners of Re-FACT organizing, coordinating and teaching in international student workshops on the reconversion of industrial heritage in the context of urban regeneration.
Furthermore, she has taught as assistant teacher and supervisor of master thesis at the University of Florence collaborating with Flaviano Maria Lorusso on the subject of museums architecture and urban regeneration in the master course of architectural design.
She has also held several lectures on contemporary wooden architecture contributing to vocational training courses for architects on timber construction.
Her professional work is actually concentrated on executive planning of school buildings with an approach to sustainability, preferring timber construction for the new buildings and employing natural materials to ensure a better indoor comfort for the end-users.
Beyond this, she's actually the coordinator of a volunteer association that, supported by an international partnership, is engaged in landscape conservation and the promotion of local sustainable development.
The social and cultural aspects of architecture are as important as the concrete output of applied science. That's why she's deeply committed to community outreach and teaching. The mission is to impart the passion for architecture as a powerful instrument not only to testimony Zeitgeist (the spirit of the age), but furthermore to induce change.