 Presentazione
I SILOS GRANARI della Calata Punto Franco, in degrado da decenni, sono una presenza ingombrante sull'area destinata alle crociere. Nel triangolo tra calata Sgarallino e calata Punto Franco, gli ex-Silos potrebbero presto essere riconsegnati alla città per trasformarsi nella "Nuova Porta alla Città d'Acqua", "la Pupilla dell'Occhio della Toscana".
La concezione di idee progettuali sul possibile recupero di questo patrimonio industriale, bene storico vincolato, attraverso la sua riconversione e la connessa rigenerazione del suo contesto urbano, è questa la sfida che gli studenti e i loro docenti di architettura provenienti dalle sei università partner di Re-FACT,
– UNIFI/DIDA Firenze, Italia – Flaviano Maria Lorusso
– htw saar Saarbrücken, Germania – Klaus Dieter Köehler
– VUT FA Brno Repubblica Ceca – Helena Zemankova
– ETSA Siviglia, Spagna – Benito Sánchez-Montañés Macías, Luis Gonzalez-Boado
– ENSA Nancy, Francia – Christian François, Jennifer Didelon
– NYU, New York University
affrontano in questa edizione, promossa da Autorità Portuale di Livorno, Camera di Commercio, Porto Immobiliare s.r.l. e Porto di Livorno 2000, con il patrocinio del Comune di Livorno.
Un particolare ringraziamento va a Dott. Guido Asti per aver sostenuto l'impresa sin dall'inizio, cogliendo pienamente lo spirito dell'iniziativa per la sua modalità di didattica innovativa, che offre agli studenti un'esperienza straordinaria, e apre il confronto progettuale ad una platea internazionale.
Al fine di offrire agli studenti, protagonisti del workshop, il necessario quadro storico e conoscitivo di base sull'oggetto SILOS GRANARI e il suo contesto territoriale, è stato previsto il contributo storico scientifico del Dipartimento di Civiltà e Forme del Sapere dell'Università di Pisa.
Queste Lectiones Magristrales sono state infatti curate da Olimpia Vaccari, che rappresenta il Centro di Studi Storici Mediterranei "Marco Tangheroni".
Dr. Claudio Vanni, Capo Area Pianificazione dell'Autorità Portuale di Livorno, e Alessandro Aurigi, Assessore all'Urbanistica del Comune di Livorno, invece sono chiamati ad illustrare le previsioni della pianificazione territoriale e del porto per completare il quadro della situazione. Andrea Cecconi, che ha suggerito il tema del Silos a Jennifer Schaub, coordinatrice di Re-FACT, quando questo stava entrando sensibilmente nel dibattito pubblico sui futuri sviluppi della città di Livorno e del Porto, ha riunito un team di soggetti curatori locali, che grazie alle loro competenze, ma anche al loro particolare entusiasmo per questa bellissima e importante città, ha reso possibile la realizzazione di questo evento.
Così la cooperativa itinera, impresa livornese che si occupa di turismo e cultura, cura l'accoglienza degli ospiti e arricchisce il programma attraverso visite guidate con valenza didattico conoscitiva.
Mentre l'associazione ideaLi – Persone, Progetti, Territori sostiene l'iniziativa fornendo il suo supporto gestionale e tecnico per la funzionalità operativa del workshop in collaborazione anche con l'associazione G.U.L.LI. Elisa Mancini, Grafic and Web Designer, invece cura gli aspetti legati ai vertical media.
Un highlight speciale durante la settimana di workshop è costituito dalla Lectio Magistralis di Giorgio Grandi del Renzo Piano Building Workshop di Genova sul tema della sostenibilità nell'ambito della rigenerazione urbana e del recupero funzionale del patrimonio edilizio esistente.
L'impegno eccezionale messo in campo in questa occasione, da tanti soggetti diversi, può senza dubbio
essere interpretato come segnale positivo di una crescente attenzione verso questi monumenti di archeologia industriale, spesso considerati come Mostri, mentre costituiscono invece un valore innegabile per il loro territorio e un potenziale di rinnovamento importante per le loro città.
Ci si augura che un tale livello di attenzione sia indicatore anche di una convinzione condivisa, che sia il recupero la soluzione per questi beni culturali, piuttosto che la loro demolizione senza considerazione di alternative e quindi la loro cancellazione con la totale perdita della memoria e di un'opportunità importante.
Il contributo degli studenti, in questa sede di riflessioni preliminari, non può che arricchire il dibattito ed aprire lo stesso a nuove visioni inattese.
Presentation
The SILOS GRANARI of Calata Punto Franco, after decades of degradation, are an unwelcome presence on the cruise terminal area. In the triangle between calata Sgarallino and calata Punto Franco, the ex-Silos might soon be redelivered to the city if it is transformed into "The New Waterfront Gate of the City", "The Apple of Tuscany's Eye".
The conception of projects on the possible recuperation of this industrial heritage, historical bond asset, through its reconversion and the linked regeneration of its urban context is the challenge that the students and their architect teachers coming from six university partners of Re-Fact:
– UNIFI/DIDA Florence, Italy – Flaviano Maria Lorusso
– HTW Saar Saarbrücken, Germany – Klaus Dieter Köehler
– VUT FA Brno, Czech Republic – Helena Zemankova
– ETSA Siviglia, Spain – Benito Sánchez-Montañés Macías, Luis Gonzalez-Boado
– ENSA Nancy, France – Christian François, Jennifer Didelon
– NYU, New York University

during this edition, promoted by the Port Authority, the Chamber of Commerce, the society Porto Immobiliare and Porto of Livorno 2000, with the patronage of the City of Livorno.
A particular thanks go to Dr. Asti for supporting the enterprise, totally embracing the spirit of the initiative because of the innovative didactic and offers the students an extraordinary experience and opens the project to an international audience.
There will be a scientific contribution of the Department of Civilization and Forms of Knowledge of the University of Pisa so to offer the students, the protagonists of the workshop, the necessary historical picture and cognitive frame of the Silos Granari and its territorial context.
The Lectiones Magristrales was, in fact, curated by Olimpia Vaccari representing the "Marco Tangheroni" Center of Mediterranean Historical Studies.
Dr. Claudio Vanni, Capo Area Pianificazione dell'Autorità Portuale di Livorno, e Alessandro Aurigi, Assessore all'Urbanistica del Comune di Livorno, instead were called to illustrate the estimates of the territory planning and of the port to complete the frame of the situation.
Due to his strong legacy to the city of Livorno, Andrea Cecconi had suggested the theme of the Silos in such a delicate moment to Jennifer Schaub, coordinator of Re-FACT, who put together a team of local curators that made it possible.
Andrea Cecconi, suggested the theme of the Silos to Jennifer Schaub, coordinator of Re-FACT, when it was delicately entering the public debate on the future development of the city of Livorno and of the Port. A team of local curators was organized and thanks to their competence, but also to their particular enthusiasm for this beautiful and important city, made the realization of the event possible.
So the Cooperativa Itinera, society of Livorno which dealts with tourism and culture, took care of receiving the guests and enriched the program through guided visits with cognitive didactics value.
While the Association ideaLi – People, Projects Territory supports the initiative furnishing it managing and technical support for the ooerational functionality of the workshop, also in collaboration with the Association G.U.L.LI. Elisa Mancini, Grafic and Web Designer, instead takes care of the aspects linked to the media.
A special highlight during the week of the workshop is provided by the Lectio Magistralis by Giorgio Grandi of the Renzo Piano Building Workshop of Genoa on the theme of sustainabiliy in the field of urban regeneration and of the functional recuperation of the existing housing heritage.
The exceptional efforts that have been undertaken on this occasion by various individuals may be interpreted, without any doubt, as a positive sign for a growing attention towards these monuments of industrial heritage, often considered as monsters, where they represent an undeniable value for their territory and an important potential for renewal of the city.
We hope that such a level of attentiveness is also an indicator of a shared conviction, that the solution is to refurbish such a cultural heritage instead of demolishing it without considering any alternative and therefore its erasure and total loss of an opportunity.
The students contribution in this phase can only enrich the debate and open it to unexpected new visions.

Home
Home Workshop
Project
Project
Events
Autorità Portuale Livorno
Scali Rosciano 7
57123 Livorno LI
Camera di Commercio Livorno
Piazza del Municipio 48
57123 Livorno LI
Porto Immobiliare s.r.l.
Porto di Livorno 2000 s.r.l.
Terminal Crociere
Piazzale dei Marmi
57123 Livorno LI
PATRONAGE
Comune di Livorno
Piazza del Municipio, 1
57123 Livorno LI

Università degli Studi di Firenze (I)
DIDA Dipartimento di Architettura
Prof. Flaviano Maria Lorusso
htw des Saarlandes Saarbrücken (D)
Fachbereich Architektur
Prof. Klaus Dieter Köehler
Vysoke Uceni Technicke V Brne (CZ)
Fakulta Architektury
Prof. Helena Zemankova
Universidad de Sevilla (E)
Departamento de Proyectos Arquitectonicos
Prof. Benito Sánchez-Montañés Macías
Prof. Luis Gonzalez de Boado H.
Ecole Nationale Superieure
d'Architecture de Nancy (F)
Prof. Christian François
Prof. Jennifer Didelon
Prof. Pascal Prunet
New York University (USA)
Art History, Urban Design and Architecture Studies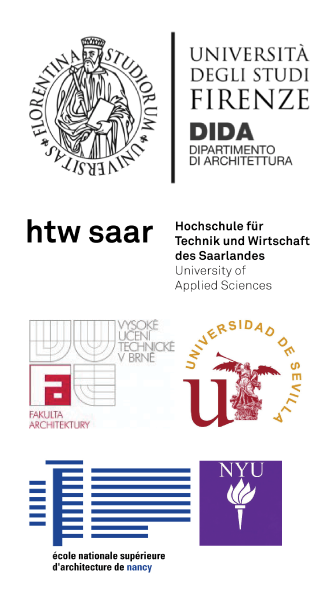 Università di Pisa
Dipartimento di Civiltà e Forme del Sapere:
Lucia Frattarelli Fischer
Lucia Nuti
Denise Ulivieri
Dipartimento di Scienze Politiche:
Maurizio Vernassa
Soprintendenza Belle Arti e Paesaggio
Riccardo Lorenzi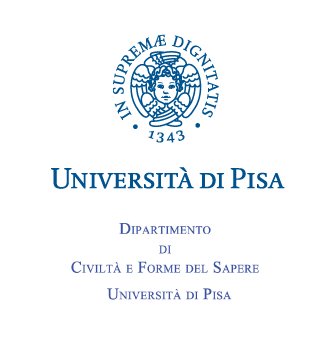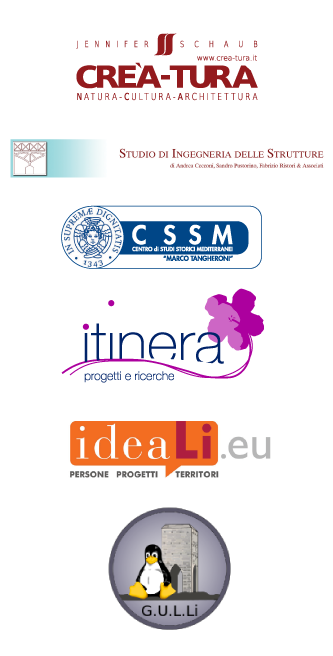 Workshop
Porto di Livorno 2000
Stazione Marittima, 1st floor (ex-conference room)
Public events of the workshop
Friday 9 – Welcome
Fortezza Vecchia, Sala Ferretti
Saturday 10 – Lectiones Magistrales
Fortezza Vecchia, Sala Ferretti
Tuesday 13 – Giorgio Grandi, RPBW, Genova
Fortezza Vecchia, Bastione Canaviglia
Saturday 17 – Final Presentation
Fortezza Vecchia, Sala Ferretti
Hotel Giappone Inn
Via Grande 65, Livorno LI
phone: +39.0586.880241
Aperitif & Buffet
Lunch
Habour canteen
Porto di Livorno 2000, Stazione Marittima
Restaurants
– L'Ottima Annata, Restaurant
Scali del Pesce 7, Nuova Venezia
– La Vecchia Senese, Restaurant and Pizzeria
Via del Tempio 14 (Largo Duomo)
– Nelson Pub, Aperitifs
Scali d'Azeglio 64, Centro-Mare
Social dinner
Cantina Coppa Barontini
Scali del Ponte di Marmo, Nuova Venezia